Executive Housing Consultants, Inc's Blog
When it comes to home safety, three areas need to be on the radar for review at least twice a year. Some folks check them with the summer and winter solstice and others with the change to and from daylight savings time. But you might want to check these more often. Whatever the schedule, these three items need your regular attention.
Smoke Detector
Testing your emergency equipment is a no-brainer, but your smoke detector particularly should be tested often. FEMA, the Federal Emergency Management Agency, says to check them monthly and replace the batteries at least every six months. According to agency reports, sixty percent of home fire deaths happen in properties where the smoke alarm does not work. And thirty-eight percent of home fire deaths occur in properties where there is no smoke detector or smoke alarm at all. But, working smoke alarms reduce by half the risk of death by a house fire.
So, check your alarm every month, and more frequently if cooking smoke activates it since activation can make both the battery and the alarm wear out. Also, test the alarm and check the battery if the alarm chirps or gives false alarms. Always use fresh new batteries. Even if your system connects to your home's electrical system, the backup batteries need checking since the risk of a house fire when the power is out or upon power restoration is high.
Fire Extinguisher
Along with smoke detectors, every house should have a fire extinguisher. You should keep one in the kitchen and any other area prone to fire, especially if you have a wood-burning fireplace or your barbecue is near to the home. But don't just install it and forget about it. When fire extinguishers go unused for a long time, they may depressurize. Unless you check them, you won't know until you need to use it.
Review your owner's manual. It should have a maintenance schedule. If it doesn't have one, contact the manufacturer for one.
Along with the pressures, when checking it, be sure:
Check the pressure. Usually, an extinguisher has a gauge. Make sure the pressure indicator is in the safe zone.
Nothing blocks access. If you install in a cabinet, place it near the front. Better yet, mount it inside the door.
The pin and tamper seal must be intact. Make no corrosion appears on the tank, and the nozzle and hose are crack free.
You don't want to learn that your extinguisher is inoperative during a fire emergency. Serviced or replaced your extinguisher every five to ten years.
Electrical Panel
Most people don't think about their electrical panel except during a power outage. Wires, breakers, and switches age and can fail when you need them most. Have a certified electrician test your panel at least every three years, and immediately if you have a breaker that continually needs resetting, have frequent power outages, see sparks or flames from a light switch or power outlet, or rely on your home power to operating medical or other critical equipment.
If you need assistance finding qualified specialists to check your safety equipment, contact your real estate professional today.
Price Change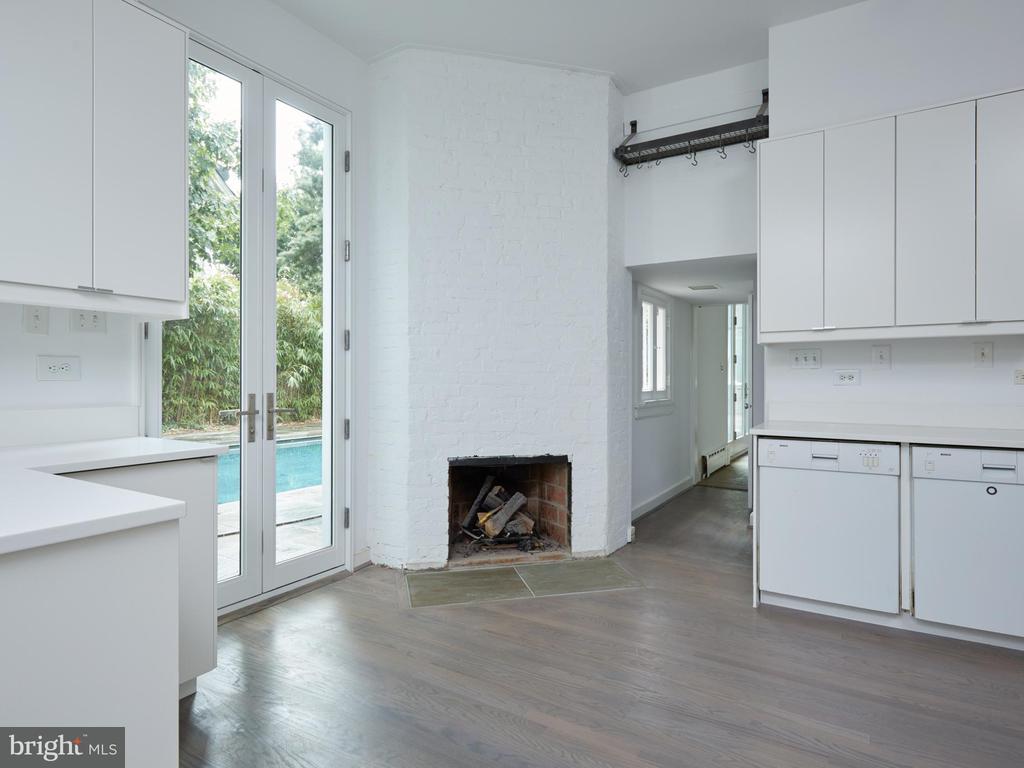 Cleveland Park stunner. Elegant & architecturally significant home w/expansive, open floor plan & beautiful, airy vistas throughout. Soaring ceilings, 2-story family rm w/5 vertical skylights, 2 fpls, large sun-filled living, dining room, home office w/garden views. Gorgeous outdoor covered loggia w/terrace & fpl, pool. Large, private fully fenced rear yard. **Lawn maintenance included in rent**
A struggle that everyone faces is keeping priorities straight. As careers advance, families grow, and financial responsibilities increase, some priorities fall by the wayside.
One example of how that can happen is with home security. When you have your mind on twenty other things that need to be taken care of this week, it's easy to forget about consistently locking doors, turning on security lights at night, and being observant of suspicious activity or people in your neighborhood.
There are dozens of home security mistakes people make every day, most of which are the result of complacency or a lack of awareness. Probably one of the biggest security blunders many homeowners and renters make is broadcasting the fact that they're away from home, traveling, or planning to leave the house for any period of time.
In many cases, you may be unaware of security breaches you're creating. In an era in which nearly everyone has a social media presence, it's very common to let your guard down and announce on Facebook or another platform that you're planning to go to a high school reunion, a wedding, or a week-long vacation at a Florida theme park.
While sharing personal information on social media or blogs may be one way to keep in touch with friends and family, it's often safer to be a little vague about exact dates and times you're away from home. Once you've returned, there's certainly no harm in providing a full account of your travel adventures, but doing so beforehand can be a little risky -- especially if you haven't set your social media account settings to private
Forgetting to have your mail or newspaper delivery suspended for the duration of your absence is another way people inadvertently advertise the fact that their house is unoccupied. The ideal scenario is to have a trusted neighbor keep an eye on your home while you're gone. That enables them to report any trespassers or other suspicious activity to the police.
Even if you don't have mail or unread newspapers piling up in your mailbox, driveway, or front steps, there's still the chance that an unexpected package will be delivered and left out in the open for passersby to see. You can't always predict when a box, a catalog, or an advertisement is going to be left at your home, so it pays to have a friend, relative, or neighbor check on your house daily to remove any telltale signs that no one's home.
Perhaps the ultimate in home security is to have closed circuit cameras, monitored alarms, and/or a wireless security system installed in your home. Once you get the hang of it, being able to monitor and control different aspects of your home environment remotely can enhance your security, your safety, and your sense of well-being.

Having a high credit score is one of the most important and helpful things you can achieve before buying a home. A solid credit history will give you a better chance of being approved for the home loan you want and getting a lower interest rate so that you know you're getting a good deal on your first home.
But, as any renter can tell you, it can sometimes be difficult to lift your credit score when you've got so many other things to worry about.
In today's post, I'm going to cover the best ways to build credit while renting an apartment so you can lift your score to an amount that will help you achieve your goal of homeownership.
1. Take over the bills
If you live with roommates or with your family, one good way to start building your credit score is to simply put more bills in your name.
If you're certain that you'll be able to make on-time payments on them each month, this can be a way to boost your score without much thought.
Keep in mind, however, that not all utility companies report your payments to credit bureaus, so it's a good idea to check that yours does before putting the bills in your name.
2. Become an authorized user
If taking out new credit isn't an option for you, becoming an authorized user on someone else's credit account can help you increase your score.
Be sure to find out whether the credit issuer reports payments for authorized users before taking this step. And, once you're sure that they do, you can be added to the account without changing anything about your spending.
3. Convince your landlord to report your rental payments
In most cases, rental payments aren't reported to the credit bureaus. However, it is becoming more common. Check to see if your landlord uses a service like PayYourRent or RentTrack. If not, consider asking them to try it out.
4. Solving the "no credit" problem
Since we all start off with a blank slate in terms of credit history, some renters have the issues of not having enough credit information to start building their score.
If this is the case, it might be a good idea to open your first credit account. But, wait! Before you start racking up debt on your first credit card, take a minute to make a wise plan.
First, don't change your spending habits just because you have credit. Pick a card that offers rewards in the form of cash back, and only use your card for things like gas and groceries that will help you earn points.
Then, set your card to auto-pay in full each month so that you never start accruing interest. This way, you'll build your credit score and earn money (in the form of rewards or cash back), making it a win-win.
This listing was recently rented for $3,000.
Just Rented
Enjoy the beautiful serenity that is Chevy Chase Lake in this rare rental opportunity. Walk to shops, restaurants, hiker/biker trail from this terrific oasis. Entertain in style with the wood floors and custom trim. Comfy LR with built-ins and FP opens to private patio and garden. Spacious and sunny LL rec room. Lots of closets and storage. Water usage included in rent. Easy commute!